Dua to read when you Wake up from sleep
Dua to read when you Wake up from sleep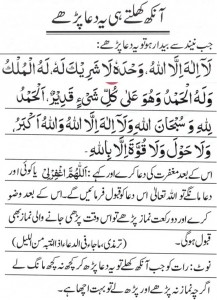 When you wake up from sleep, read the following Dua:
*See the Dua written in the above image*
After this, do Dua for forgiveness and say: Allahuma-gh fir li or make any other Dua which you desire; Allah will accept the Duas. Thereafter perform wudhu and pray 2 rakaat Salah. The Salah prayed at that time will also be accepted.
(Tirmidhi)
Note: Whenever you wake up from sleep at night, you should recite the above mentioned Dua and make any Duas after if even if one does not perform Salah. But performing of the Salah will be better.